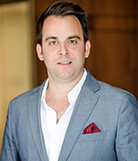 Kyle started in Real Estate in 2016. Although new to the industry, he used his sales experience and his dedication to get off to a fast start. He brings his hard work and loyalty to each deal and prides himself on going above and beyond to get the best result for his clients.

In his short time in real estate, Kyle has been recognized as a rising star and top producer at Hall and Hunter Realtors in Birmingham, as well as an Hour Magazine All-Star and top producer in Oakland Country.
Kyle has spent his whole life in the Detroit area. He's an avid sports fan, golfer, and spending time Up North in Michigan. He grew up in Troy and attended UD Jesuit High School and went on to Michigan State University, where he met his wife Lyndsey. They currently live in Beverly Hills with their 2 children.